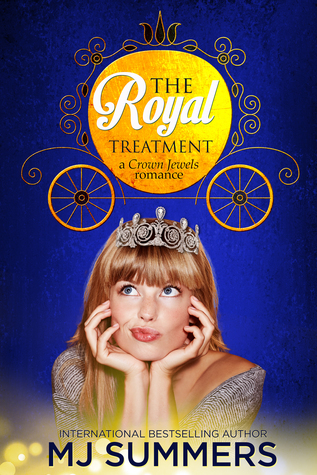 Title: The Royal Treatment
Series: Crown Jewels Romance
Series Number: #1
Author: MJ Summers
Genre: New Adult Romance
Publisher: Pronoun
Publication Date: May 20,2017
Format: Ebook – Xpresso
Pages: 281
Rating: 5
Please note that I received a complimentary copy of this work and chose to write a review.
Blurb From Goodreads:
Enough laughs to satisfy fans of Bridget Jones. Enough sparkly shoes and breathtaking ball gowns for fans of Cinderella…
Twenty-eight-year-old Tessa Sharpe, a.k.a. The Royal Watchdog, hates everything about Prince Arthur. As far as she's concerned, he's an arrogant, lazy leech on the kingdom of Avonia. When he shocks the nation by giving her the keys to the castle in an attempt to boost his family's dismal public approval ratings, Tessa has no choice but to accept and move in for two months. It's lust at first sight, but there's no way she can give in to her feelings—not if she wants to have a career or a shred of pride left when her time at the palace ends. 
Ultra-private, ultra-hot Crown Prince Arthur has always gotten by on his charm. But that won't be enough now that the Royal Family is about to be ousted from power once and for all. When Prince Arthur has to rely on the one woman in the kingdom who hates him most, he must learn that earning the love of a nation means first risking his heart…
Can two natural enemies find their forever in each other's arms, or will they ruin each other to save themselves?
[PLEASE NOTE: The Crown Jewels Series is not a typical MJ Summers book. It's a light romantic comedy, very heavy on the laughs with a low steam level (but lots of delicious sexual tension and some swearing).]
My Review:
This is one very fun story. I adored Tessa, she's a smart, strong woman yet wasn't so perfect by being somewhat clumsy along with having foot in mouth syndrome. I love characters like that, it makes them seem so real. Arthur, normal arrogant guy other than he's a prince, finds Tessa's weirdness just what he needs in his life. I can't wait to read the next book, if the wedding is anything like this book it will be hilarious yet so adorable!! This was my first read by this author and it will not be my last!!
Author Bio:
MJ Summers currently resides in Edmonton, Canada, with her husband, three young children, and their goofy dog. When she's not writing romance novels, she loves reading (obviously), snuggling up on the couch with her family for movie night (which would not be complete without lots of popcorn and milkshakes), and long walks in the woods near her house. MJ also spends a lot more time thinking about doing yoga than actually doing yoga, which is why most of her photos are taken 'from above'. She also loves shutting down restaurants with her girlfriends. Well, not literally shutting them down, like calling the health inspector or something. More like just staying until they turn the lights off.
MJ is a member of the Romance Writers of America, as well as the International Women's Writing Guild.
MJ would love to hear from you! She does her best to respond to all inquiries and emails personally. If you would like her to attend a book club meeting via Skype please contact her to book a date.
DON'T FORGET TO FOLLOW OUR BLOG.
.