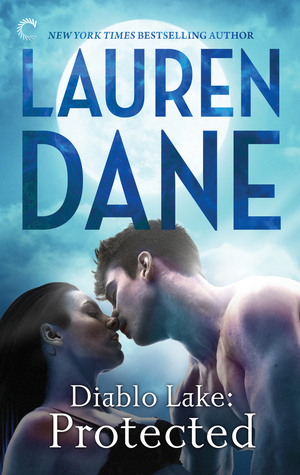 Title: Protected
Series: Diablo Lake
Series Number: #2
Author: Lauren Dane
Genre: Adult Paranormal Romance
Publisher: Carina Press
Publication Date: January 23, 2017
Format: Ebook – NetGalley
Pages: 352
Rating: 5
Please note that I received a complimentary copy of this work and chose to write a review.
Blurb From Goodreads:
New York Times bestselling author Lauren Dane welcomes you back to Diablo Lake, Tennessee: a town founded by witches, governed by werewolves and full of secrets
Tensions are building in Diablo Lake as the two main rival Packs vie for control, and the town is divided along lines of Pack loyalty. Aimee Benton and Mac Pembry are on opposite sides and he seems to find excuses to spar with her daily. He's infuriating—not to mention charming, gorgeous and oh-so-lickable.
Mac can't resist pushing Aimee's buttons. She's always been incredibly sexy, and the wolf in him craves a female with fire in her belly. When a heated argument ends with a sizzling kiss and Mac gets a taste of her, he craves more—and she can't seem to get enough of him, either. The forbidden nature of their attraction stokes their desires until they're secretly hooking up whenever they can.
But then Mac's clan goes too far, and Aimee shuts him out. She's hurt and angry—but that's nothing compared to the rage Mac is feeling toward his own Pack. A fight is brewing that will plunge the whole town into chaos, and someone will have to cross Pack lines to keep the town's fragile peace from breaking apart for good.
My Review:
I am so in love with this little town of paranormals. Can I move there? And the characters are just as easy to love. I am really enjoying this series, and it's definitely one that you have to read in order just so you don't miss anything. And I do not want to miss one! Mac and Aimee are so attracted to each other yet because of the issues between the two wolf packs it wouldn't seem prudent to follow those attractions. Thankfully neither are prudent and sparks fly, along with some fists but that's a different story. Seriously, can I move to Diablo Lake? It seems to have everything but vampires lol. Guess I'll just have to wait for the next book since I can't move there, sigh.
Author Bio:
Lauren Dane has been writing stories since she was able to use a pencil, and before that she used to tell them to people. Of course, she still talks nonstop, and through wonderful fate and good fortune, she's now able to share what she writes with others. It's a wonderful life!
The basics: Lauren is a mom, a partner, a best friend and a daughter. Living in the rainy but beautiful Pacific Northwest, she spends her late evenings writing like a fiend when she finally wrestles all of her kids to bed.
DON'T FORGET TO FOLLOW OUR BLOG.
.