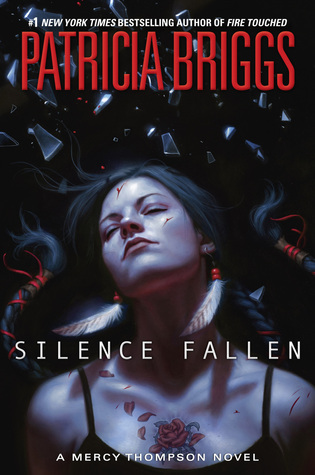 Title: Silence Fallen
Series: Mercy Thompson
Series Number: #10
Author: Patricia Briggs
Genre: Adult, Paranormal
Publisher: Ace Books
Publication Date: March 7, 2017
Format: Hardcover – Library Loan
Pages: 371
Rating: 5
Blurb From Goodreads:
In the #1 New York Times bestselling Mercy Thompson novels, the coyote shapeshifter has found her voice in the werewolf pack. But when Mercy's bond with the pack and her mate is broken, she'll learn what it truly means to be alone…
Attacked and abducted in her home territory, Mercy finds herself in the clutches of the most powerful vampire in the world, taken as a weapon to use against alpha werewolf Adam and the ruler of the Tri-Cities vampires. In coyote form, Mercy escapes only to find herself without money, without clothing, and alone in the heart of Europe…
Unable to contact Adam and the rest of the pack, Mercy has allies to find and enemies to fight, and she needs to figure out which is which. Ancient powers stir, and Mercy must be her agile best to avoid causing a war between vampires and werewolves, and between werewolves and werewolves. And in the heart of the ancient city of Prague, old ghosts rise…
My Review:
Well, that started off with a bang! There was maybe a page or two of mundane stuff at the start and then it was a roller-coaster ride of excitement. As usual, Ms. Briggs does not disappoint, and makes it worth the year long wait for the next installment. If I didn't have a job or family, this book would've been read in one sitting. It was so hard to put down, especially since Mercy seems to always end up in some mess or another. What was fun about this adventure was that no one seemed to know the what's, why's, where's, and who's until the end. Definitely keeps you on your toes, and the edge of your seat, as the story unfolds. I don't know how many times I thought "ooooh, and the plot thickens" or "OMG Mercy, how do you end up in these situations?" lol. Can't wait for the next one, even though I have to.
Author Bio:
Patricia is the #1 New York Times best selling author of the Mercy Thompson series and has written twenty four novels to date; she is currently writing novel number twenty five. She has short stories in several anthologies, as well as a series of comic books and graphic novels based on her Mercy Thompson and Alpha and Omega series. Patty began her career writing traditional high fantasy novels in 1993, and shifted gears in 2006 to write urban fantasy. Moon Called was the first of her signature series about Mercy; the non-stop adventure left readers wanting more and word of this exciting new urban fantasy series about a shape-shifting mechanic spread quickly. The series has continued to grow in popularity with the release of each book. Patty also writes the Alpha and Omega series, which are set in the same world as the Mercy Thompson novels; what began as a novella expanded into a full new series, all of which debuted on the NY Times bestsellers list as well.
Patty was born in Butte, Montana, back in 1965. If you're good at math, you'll have deduced that she's currently twenty-nine. In fact, she's been twenty-nine for a while and has no intention of getting any older. Fiction authors don't obey the laws of space and time, they invent them. Don't argue, or she'll make up a dragon right behind you . . .
Patricia was born book-privileged. Her mother was a school librarian, and she shared a room with an older sister who loved to read. Long after they had been put to bed, her sister would use the small night light to read Patty stories; her early favorites were fairy tales. Knights and castles, fair maidens, and monsters of every ilk became their nighttime companions.
Soon, Patty learned to read, and whole worlds were hers to explore. She rode on the Black Stallion, and flew the skies of Pern on a dragon. Sometime during that period she stumbled onto a treasure trove. Her older sister had begun collecting comic books; pristine originals were place in cellophane sleeves and organized in cardboard boxes. When her sister was away, they were removed by grubby fingers smeared with peanut butter and jelly for a clandestine read, returning with a faint smudges and wrinkled pages from reading under the covers. To this day, her sister periodically calls Patty and tells her how much more her original copies of the X-Men would have been worth if left pristine in their sleeves. The number keeps going up.
Patty is a prevarication professional. She lies for a living, telling whoppers and fibs so outrageous that people pay her to fib some more. Her only concession to honesty is that she tells people she's lying to them, which is what separates a fiction author from a politician. She loves to play with her imaginary friends, and meeting with readers who know her imaginary friends is a treat. Her biggest complaint with writing is that she has far more ideas for stories than time to write them.
Patty and her family reside in Eastern Washington near Tri-Cities, home of Mercy Thompson; yes, it's a real place! When not working on the next book, she can be found playing truant out in her horse pastures, playing with the newest babies.
DON'T FORGET TO FOLLOW OUR BLOG.
.