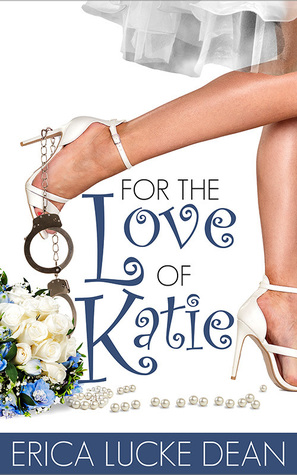 Title: For The Love Of Katie
Series: The Katie Chronicles
Series Number: #2
Author: Erica Lucke Dean
Genre: Adult Romantic Comedy
Publisher: Red Adept Publishing
Publication Date: April 18, 2017
Format: Ebook
Pages: 235
Rating: 5
Please note that I received a complimentary copy of this work and chose to write a review.
Blurb From Goodreads:
Newlywed Katie Maxwell is ready to settle down and leave her amateur detective days behind. But when the veil of secrecy surrounding her husband's latest project takes them to Europe, her penchant for sleuthing lands her in some serious hot foreign water.
Katie will need to think quickly to talk her way out of handcuffs and a Parisian jail cell. Too bad she doesn't speak French.
For the Love of Katie is the second madcap adventure in The Katie Chronicles. This book can be read as a standalone, but why would you want to skip the first?
My Review:
OMG! I LOVED IT!! Talk about hilarious, I'm not sure which book was funnier. The first book had me rolling on the floor. This one had me giggling long after putting it down (and putting it down wasn't easy). Katie seems to end up in the weirdest situations that you can't help but laugh at. And Cooper is MINE!! He is the sweetest, most adorable book boyfriend. And trust me, he's the perfect book boyfriend. If he can handle Katie and all her hair-brained schemes along with her clumsiness, he could handle anyone lol. And instead of getting angry and blowing up, they have sex… how could you say no to that?
Favorite Quotes:
I dangled the barely-there thong from my index finger and tried not to imagine where the micro-string would end up – or how I'd get it out. – Katie
She opened her mouth wide and made half the burrito disappear. How does she do that? And will she teach me? – Katie
Note to self: acquire backbone… and a set of balls, for good measure! – Katie
Author Bio:
After walking away from her career as a business banker to pursue writing full-time, Erica moved from the hustle and bustle of the big city to a small tourist town in the North Georgia Mountains where she lives in a 90-year-old haunted farmhouse with her workaholic husband, her 180lb lap dog, and at least one ghost.
When she's not busy writing or tending to her collection of crazy chickens, diabolical ducks, and a quintet of piglets, hell bent on having her for dinner, she's either reading bad fan fiction or singing karaoke in the local pub. Much like the characters in her books, Erica is a magnet for disaster, and has been known to trip on air while walking across flat surfaces.
How she's managed to survive this long is one of life's great mysteries.
Don't forget to follow our blog.
.