Title: Beauty Of The Beast
Series: Fairy Tale Retellings
Series Number: #1
Author: Rachel L. Demeter
Genre: New Adult, Historical Romance
Publisher: ?
Publication Date: March 15, 2017
Format: Ebook
Pages: 342
Rating: 5
Please note that I received a complimentary copy of this work and chose to write a review.
Blurb From Goodreads:
Experience the world's most enchanting and timeless love story—retold with a dark and realistic twist.
A BEAST LIVING IN THE SHADOW OF HIS PAST
Reclusive and severely scarred Prince Adam Delacroix has remained hidden inside a secluded, decrepit castle ever since he witnessed his family's brutal massacre. Cloaked in shadow, with only the lamentations of past ghosts for company, he has abandoned all hope, allowing the world to believe he died on that tragic eve twenty-five years ago.
A BEAUTY IN PURSUIT OF A BETTER FUTURE
Caught in a fierce snowstorm, beautiful and strong-willed Isabelle Rose seeks shelter at a castle—unaware that its beastly and disfigured master is much more than he appears to be. When he imprisons her gravely ill and blind father, she bravely offers herself in his place.
BEAUTY AND THE BEAST
Stripped of his emotional defenses, Adam's humanity reawakens as he encounters a kindred soul in Isabelle. Together they will wade through darkness and discover beauty and passion in the most unlikely of places. But when a monster from Isabelle's former life threatens their new love, Demrov's forgotten prince must emerge from his shadows and face the world once more…
Perfect for fans of Beauty and the Beast and The Phantom of the Opera, Beauty of the Beast brings a familiar and well-loved fairy tale to life with a rich setting in the kingdom of Demrov and a captivating, Gothic voice.
* * *
Beauty of the Beast is the first standalone installment in a series of classic fairy tales reimagined with a dark and realistic twist.
Disclaimer: This is an edgy, historical romance retelling of the classic fairy tale. Due to strong sexual content, profanity, and dark subject matter, including an instance of sexual assault committed by the villain, Beauty of the Beast is not intended for readers under the age of 18.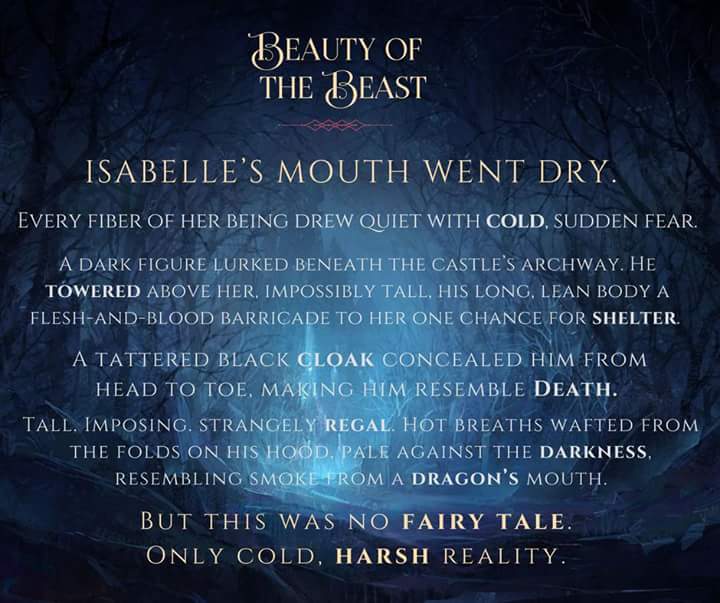 My Review:
Well, as soon as I realized this was a Beauty and the Beast retelling I had to read it and I'm so glad I did. There isn't really any magic or fantasy, other than the roses being in bloom all the time, but it's still a magical story. The "beast" is just a man, but being burned has left him looking like a monster. Adam has locked himself away from the world and would prefer to stay that way until one stormy night brings unwanted guests knocking on his door, Isabelle and her sick father. There are many similarities to the Disney movie and I loved that, especially the library, but there were enough differences that had me wondering what was going to happen next. Beautiful story!
Author Bio:
Welcome, lovely readers!  Me in a nutshell: I live in the beautiful hills of Anaheim, California with Teddy, my goofy lowland sheepdog, and high school sweetheart of thirteen years. I hold a Screenwriting B.A. from Chapman University's School of Film and Media Arts. Even though I'm primarily a novelist, film school deepened my love for crafting fiction tenfold; it taught me to concentrate on plotting, dynamic characters, and effective pacing, as well as the importance of visual storytelling. I wouldn't trade my college education for anything in the world!
I enjoy writing darker, poignant romances that challenge the reader's emotions and explore the redeeming power of love. Writing is my life's blood, my passion, my greatest obsession and pleasure. I've been imagining stories and characters ever since I was a wee child. Before I learned to physically read or write, my mom would jot them down for me. I hold a special affinity for the tortured hero and unconventional romances. Whether crafting the protagonist or antagonist, I ensure that every character is fully realized and given a soul!
My dream is to move readers and leave an emotional impact through my words. ♥
Don't forget to follow our blog.