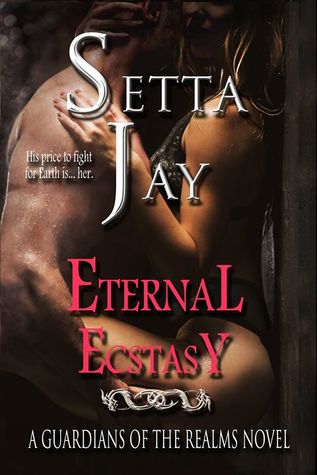 Title: Eternal Ecstasy
Series: Guardians of the Realms
Series Number: #10
Author: Setta Jay
Genre: Adult, Paranormal Romance
Publisher: Setta Jay LLC
Publication Date: January 27, 2017
Format: Ebook
Pages: 288
Rating: 5
Please note that I received a complimentary copy of this work and chose to write a review.
Blurb From Goodreads:
*This is the finale of the Guardians and the Realms series and is not meant to be read as a standalone title*
As the ruling God of Thule, Hroarr's priority is the survival of his world. Gifted with the ancient ability of sjá, he has seen the birth and destruction of hundreds of worlds. This incredible power comes at an enormous cost, yet its toll seems to ease in the presence of a hauntingly seductive healer from Earth.
Sirena's life is comprised of duty. Duty to her Guardian family, to healing those of her world and, most of all, the overwhelming duty to right the wrongs of her secret and vile bloodline. With everything on her plate a ruthless warlord God from another world is the last thing she needs, no matter what fate and her heated body demands.
Will a dark Destroyer of Worlds bring upon the end of Earth and Thule or will two strong-minded beings fight and discover their own eternal ecstasy?
Warning: Take one possessive, dirty talking Warrior God and one smart, no nonsense Healer; combine and shake things up for explosive results and scorching content meant for mature audiences!
My Review:
Noooo!! It's over!? This was such an awesome series! Even though each book was about a different character there was one main plot that continued, so you really have to read this one in order. And as usual, Ms. Jay delivers a steamy romance with enough suspense to keep you on your toes. This is definitely one series that will forever be on my TBR list no matter how many times I read it! And there's good news, spin-off series!! I can't wait to visit this world again and meet new characters while hopefully still getting to "see" some "old friends" from the original series. Now I just have to deal with the withdrawals until the new series comes out.
Author Bio:
Setta Jay is the author of the popular Guardians of the Realms Series. She's garnered attention and rave reviews in the paranormal romance world for writing smart, slightly innocent heroines and intense alpha males. She loves creating stories that incorporate a strong plot accompanied by a heavy dose of heat.
An avid reader her entire life, her love of romance started at a far too early age with the bodice rippers she stole from her older sister. Along with reading, she loves animals, brunch dates, coffee that is really more French vanilla creamer, questionable reality television, English murder mysteries, and has dreams of traveling the world.
Born a California girl, she currently resides in Idaho with her incredibly supportive husband.
She loves to hear from readers so feel free to ask her questions on social media or send her an email, she will happily reply.
Don't forget to follow our blog.