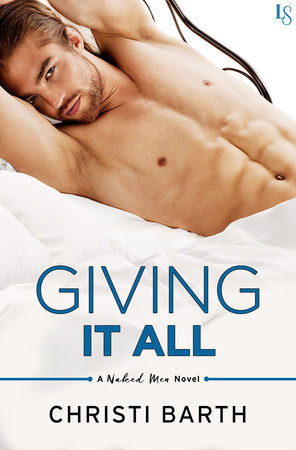 Title: Giving It All
Series: Naked Men
Series Number: #3
Author: Christi Barth
Genre: Adult Contemporary Romance
Publisher: Loveswept
Publication Date: January 17, 2017
Format: Ebook
Pages: 224
Rating: 5
Please note that I received a complimentary copy of this work and chose to write a review.
Blurb From Goodreads:
Christi Barth's smoking-hot contemporary romance series continues as the five best friends who survived a tragedy as teenagers take to their Naked Men podcast to open up about women. In Giving It All, the group's globe-trotting hunk discovers that you need to go home to find love.
 
Logan Marsh never stays in one place for long. Through his family's foundation, Logan spends his days traveling to the world's most dangerous places to deliver disaster relief, which really puts a damper on his sex life—until he reconnects with his high-school crush. Stranded together in the Caribbean, they enjoy a steamy fling that awakens feelings Logan has ignored for too long. But family drama calls him away from her sweet embrace . . . or so he thinks.
 
Brooke Gallagher loved being a home economics teacher and cheerleading coach. Then an unexpected tragedy forced her to take some time off. Now she's back in D.C. and despite the intensity of her tropical encounter with Logan, she's shocked to bump into him again. Logan's dealing with his own issues (including a newly discovered half-sister) and he's itching to get back on the road. More than anything, Brooke wants to be there for him. But first, he has to decide if love is enough to keep him in one place.
My Review:
So we finally get to meet Logan, I call dibs!! Although realistically I'll take all of them. This series is just amazing, each book can stand on it's own but we learn so much about each of them that you won't want to miss a single one. Logan is so focused on saving people that he doesn't stay in one spot for long. He's so selfless that he sacrifices doing what he wants or needs for himself. It just makes your heart melt even though you want to smack the crap out of him. What drew me to this series was the name, Naked Men. Of course my mind strayed into the gutter, well, it's pretty much always there so it wasn't that much of a stray lol. This is a must read series that is so well written that you'll forget that it's not real. I don't know how many times I had to stop myself from looking up their blog or broadcast, sigh. I can't wait to read the next one!
Author Bio:
CHRISTI BARTH earned a Masters degree in vocal performance and embarked upon a career on the stage. A love of romance then drew her to wedding planning. Ultimately she succumbed to her lifelong love of books and now writes award-winning contemporary romance, including the Naked Men and Aisle Bound series.
Christi can always be found either whipping up gourmet meals (for fun, honest!) or with her nose in a book. She lives in Maryland with the best husband in the world.
Don't forget to follow our blog.