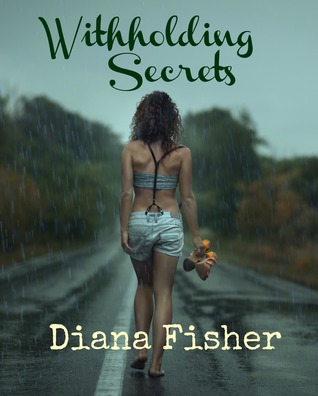 Title: Withholding Secrets
Series:N/A
Series Number:N/A
Author: Diana Fisher
Genre: Romantic Suspense
Publisher: N/A
Publication Date: July 2, 2016
Format: Ebook
Pages: 321
Rating: 5+ (can I give it a 10?)
Please note that I received a complimentary copy of this work in exchange for an honest review.
Blurb From Goodreads:
My husband never told me he had kids. Especially a boy who was 14 and a girl who was 12. I found out the day they ended up on our doorstep. What made the situation worse, my husband decided to walk out on the three of us. Being twenty-five, what was I supposed to do? The kids had a hard life already and I couldn't hand them over to the state. I was their guardian and those two needed a stable home, a loving home, so I kept them.
I just didn't know how hard it would be to be a single parent of two young teens when there were young girls disappearing around the area. To protect those two kids, I would do anything, even if it meant keeping secrets from the ones who were trying to help me. As I dug further into finding truth, I uncovered even more secrets…
But how far would you go to keep those secrets if it meant the safety and welfare of the ones you came to love unconditionally?
HOW CAN YOU TRUST SOMEONE WHEN EVERYONE LIES???
My Review:
OMG!!! This is one of the best books I've read this year!!! I read it in one sitting and only stopped to grab tissues (and you will need them). So many feels! My heart totally went out to the kids, I just wanted to grab them and hold them. I cried so many times over their struggles and for Keri, trying to do what's right and convince them that she won't let them go. I absolutely LOVED Keri! She's strong, fierce, smart, yet so overwhelmed, vulnerable and naive (due to inexperience). And the kids, I couldn't help but fall in love with them and feel the fierce protectiveness the consumes Keri. Then Kane comes along (my new book boyfriend) and the feels just kept on coming. Keri is doing everything she can to ensure that she doesn't lose these kids and they aren't even hers, they belong to her husband who has left them all. And it seems that the whole town is against her keeping the kids (granted she's 25 and the kids are 14 and 12) so she doesn't trust anyone. Kane finally pushes through her fears and barriers enough to help them but will she trust him completely. Then on top of all that, girls are going missing and there are no leads. Keri is trying to keep Jordan, 14 yr old boy, and Sky, 12 yr old girl, from being taken from her along with trying to prevent Sky from being kidnapped. Snag a copy of this book as soon as you can, you won't regret it!
Warning: Adult situations, child sex trafficking, and rape are in this book but it's not too graphic or detailed.
A MUST READ!!!
Don't forget to follow our blog.